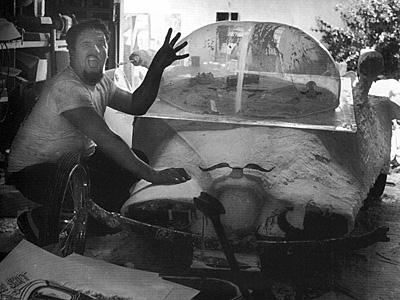 from Hot Rods by Ed "Big Daddy" Roth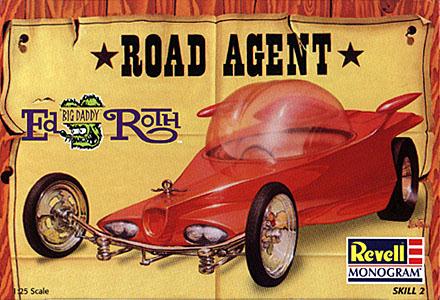 Model Kit Box Cover - 1997 re-issue
1960s Revell trade ad:
"You Can SELL a Road Agent! Latest from Ed 'Big Daddy' Roth, this exciting new kit is a perfectly detailed 1/25 scale model of 1964's unique show car. Authentic features include easily removable one-piece body... hinged bubble top... chromed tubular frame... chromed Corvair engine... detailed interior... chromed 'Astra' wheels... metal axles... Bridgestone rear tires and motorcycle front tires. And to make sure that your Road Agents move across the counter, the kit includes a 1/25 scale model of Big Daddy Roth in his show outfit... top hat and tails! (There's even an inch-high Rat Fink, too!) The full size car is on tour with International Championship Shows all year, so make sure you don't miss out on the profits from the thousands who are flocking to see this new top-seller."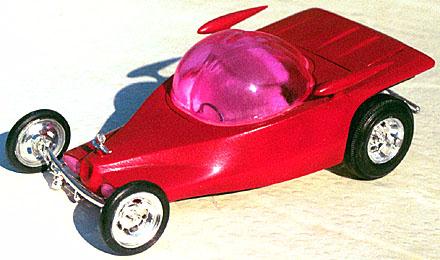 Constructed and Painted Model of Road Agent.

Underside of Road Agent Model.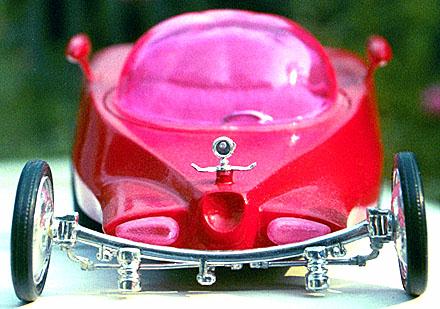 Front View of Road Agent Model.