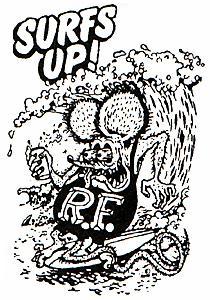 A precursor to Surf Fink.
"I can do some pretty righteous stuff with mud, or sand, or even with Bondo, but not clay! And clay characters are what the Revell hombres needed to make injection molds. Luckily, Revell hooked me up with this real shy guy, Harry Plummer (Hello, Harry! Ya still kickin'?). Harry & I created monsters beyond my worst nightmares."
- Ed Roth, from Confessions of a Rat Fink

Model Kit Box Cover - 1990 re-issue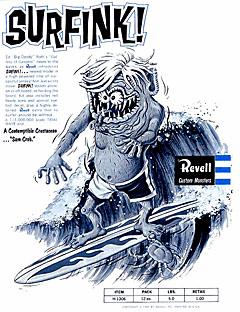 1960s Revell trade ad:
"Ed 'Big Daddy' Roth's "Gallery of Gassers" takes to the waves, as Revell introduces Surfink!... newest model in a high powered line of successful sellers! Surfink stands alone on or off the board. Kit also includes red beady eyes and special eye ball decal plus a highly detailed Revell extra that no surfer should be without, a 1/1,000,000 scale TIDAL WAVE and... A Contemptible Crustacian... 'Sam Crab.'"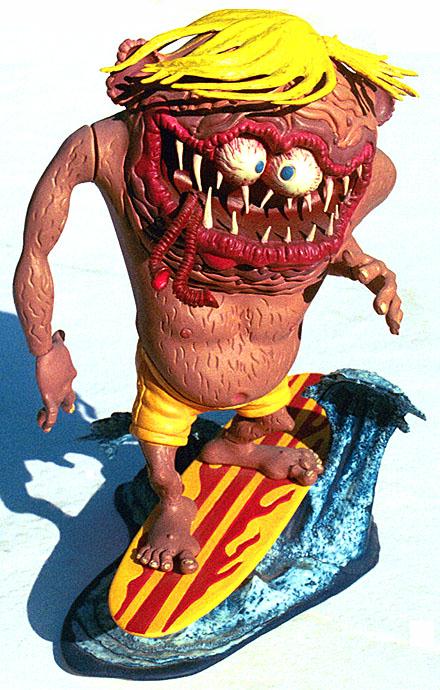 Constructed and Painted Model of Surf Fink.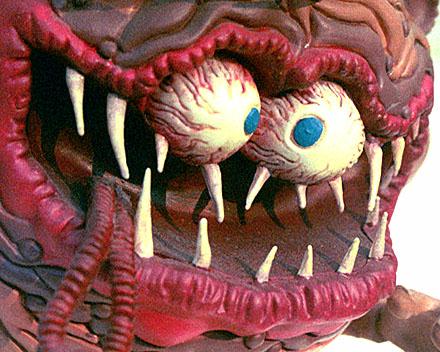 Close Up View of Surf Fink.