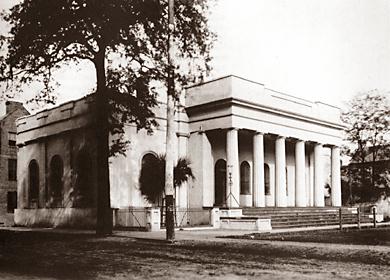 Savannah Branch Bank of the U.S., Library of Congress
Richardson also commissioned Jay to build the Branch Bank of the United States in Savannah on East St. Julian Steet. Completed in 1821, it was nationally recognized and became the subject of engravings that were reproduced on ceramics and in books.

A projecting portico and recessed rear portico led to a central banking hall with a flattened dome and marble chimneypieces. The hall was flanked by offices on one side and by a vault and cashier's office on the other. Later it was extensively modified, and in 1924 it was demolished.