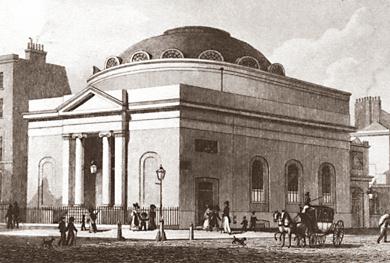 Albion Chapel, engraving by Shepherd and Elme
William Jay was born at Bath, England in 1792. As a young man, Jay was apprenticed to London architect and surveyor David Riddel Roper. Jay exhibited his work at the Royal Academy in London during Sir John Soane's tenure. In 1815 he received his first known professional commission for the Albion Chapel, Moorfields, London (left). It was demolished in 1879.

Jay left London for Savannah, Georgia at the end of 1817. One of the first professionally trained architects practicing in the United States, Jay created buildings in a style called English Regency. This was a neo-classical period that takes its name from England's King George IV, who ruled as Prince Regent from 1811 to 1820.