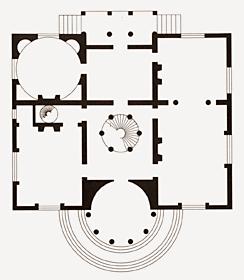 Bulloch House plan, drawing by Gene Carpenter
The Bulloch House's drawing room on the right had Corinthian columns supporting a square arch separating it from a rear room overlooking the garden. The dining room on the left was served by a small circular stairway. At the rear, a small circular room was decorated with a dome and concentric Greek designs.

The House Beautiful wrote in 1903: "An harmonious scheme of ornamentation is effectively used throughout the house, consisting of Greek borders, scroll enrichments, and a conventional frieze of lotus-flowers. The window casements show Greek heads carved in relief at the two upper corners, also those of the cabinet doors."