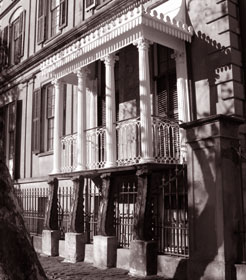 Richardson House side balcony, photo by P. K. Denslow
In 1822, Richardson suffered financially and lost the home to the Bank of the United States. For eight years, Mrs. Mary Maxwell ran it as a lodging house. Revolutionary War hero Marquis de Lafayette was a guest of Savannah in 1825 and stayed at the home. On March 19, he addressed an enthusiastic crowd from the unique cast-iron balcony on the south facade.

In 1830, the mayor of Savannah, George Welshman Owens, purchased the property. It remained in the Owens family until 1951 when Margaret Thomas, George Owens's granddaughter, bequeathed it to the Telfair Academy of Arts and Sciences. Now called the Owens-Thomas House, it is a National Historic Landmark.