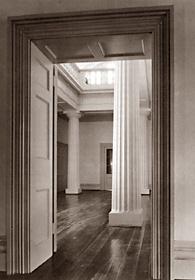 Scarbrough House central hall, photo by Van Jones Martin
Scarbrough's steamship Savannah was not a commercial success. In 1820 his house was sold. Later owners of the home included Godfrey Barnsley and the Dominick O'Byrne family. In 1878 it was given to the Board of Education which used it as the West Broad Street School until 1962. In 1972 the Historic Savannah Foundation began restoring the house.

In 1995 the building was acquired by Ships of the Sea Maritime Museum and another restoration began. This restoration, completed in 1997, featured a new roof based on a documented design by Jay as well as a new rear portico and an enlarged garden.