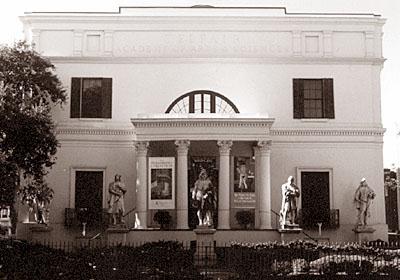 Telfair Home / Art Museum, photo by P.K.Denslow
Jay built a house for Alexander Telfair in 1820. Telfair was the son of an early Georgia governor and chairman of the Savannah Theatre. The design is more conservative, with a simpler entrance and without a monumental central stair. It is at 121 Bernard Street, on Telfair Square.

Telfair passed the house on to his sister Mary, who requested that the house be converted and expanded to an art museum. Today it is the Telfair Academy of Arts and Sciences, which also oversees the Richardson / Owens-Thomas house.

When the house was converted to the museum, a stair in the hall and a screen of columns in the double parlors were removed. A roof with skylight was replaced by a new attic and rear bays were covered by additions.