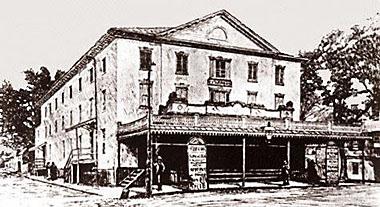 Savannah Theatre circa 1894, Georgia Historical Society
Jay completed the Savannah Theatre at 222 Bull Street near Chippewa Square in 1818. The building is the oldest continuously operating theatre in the United States. It opened on December 4 with a production of the comedy "Soldiers Daughter" and a farce "Raising The Wind."

During the days of the playhouse some of the greatest dramatic and operatic stars performed at the Savannah Theatre. Later it became a movie house. The Theatre burned several times but it was rebuilt each time and reopened successfully. Over the years the Theatre's appearance has changed greatly, but parts of the rear wall still contain the original bricks and foundation of the 1818 building.